It's that time of the year. No, not stuffing yourself silly with lussekatter and glögg, nor putting up Christmas decorations. It's …
wait for it…
wait for it…

(my hideous rendition of a once beautiful design from Depresident, a political t-shirt shop. )

It's the 2009 Nobel Peace Prize with Obamarama!
If you missed out on the news, President Barack Obama was awarded the 2009 Nobel Peace Prize "for for his extraordinary efforts to strengthen international diplomacy and cooperation between peoples." Now people, I love Obama because of what he stands for, but a Peace Prize barely a year into his presidency is pretty hilarious. Back in 2007 former Vice President Al Gore received the Peace Prize along with the IPCC and that was awesome. He has worked a lot with climate change and definitely deserves it.
Obama, now has huge expectations to fulfill. If he does not perform 501%, I'm sure some redneck Fox News psychos will bash him on his Swedish socialism style. Because you know, Sweden, Socialism, and Obama equal death for the conservatives.
Anyway, let's leave the dude alone and see what happens.
On a more delicious side; the Nobel Prize Dinner. Here are some fun facts about the dinner:
23,000 flowers from San Remo, Italy. Alfred Nobel lived there during the last years of his life.
1300 Guests attend the ceremony today
113 Male guests attended the first ceremony in 1901
So while peons like myself are not invited to celebrate in the festivities in Oslo or Stockholm, we can all watch it online here.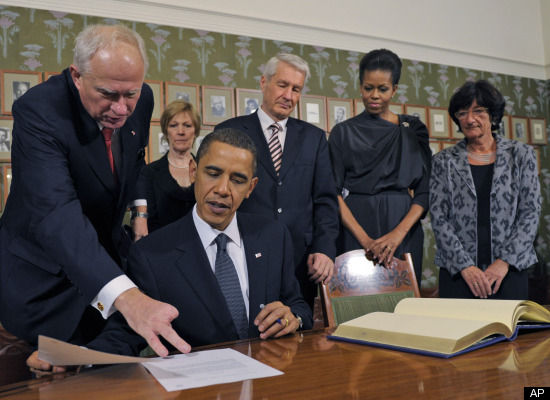 The 2009 Nobel Dinner Menu (for Stockholm):
Lobster consommé with shellfish tartare, lobster and Kalix bleak roe
Truffle-stuffed quail with parsley root, Brussels sprouts and port wine gravy (extremely delicious)
Lemon and fresh cheese mousse with sea-buckthorn sorbet (interesting and possibly delicious)
I still have not figured out what the vegetarians and shellfish allergic people eat though.
Vins:
Jacquart Brut Millesime 2002, Magnum
Chateau la Dominique 2001, Saint Emilion Grand Cru Classe
Tschida ba Seewinkel 2006, Neusiedlersee
Ohh, there are no photos up yet, but I'll try to post a couple soon.